Hallo,
aufgrund der gegenwärtigen Einschränkungen (keine Treffen, keine Ausstellungen und sonstigen Aktivitäten in O gauge) macht die Gauge O Guild das Angebot einer vergünstigen Mitgliedschaft in der Guild. Für 24 Pfund anstelle 33 Pfund kann man bis Ende Juni Mitglied werden.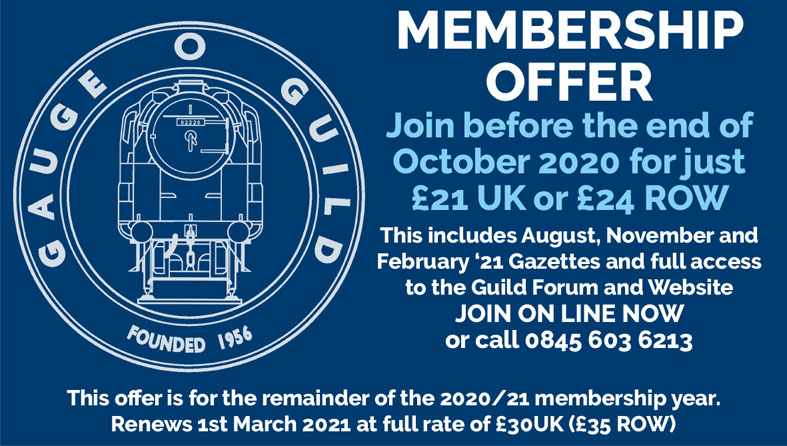 Die Mitgliedschaft läuft bis Ende Februar 2021 und verlängert sich nicht automatisch. ("ROW" oben meint "Rest of the world", also alles außerhalb Großbritannien)
Einführung in die Gilde (auf englisch)
Man kann online auf der Webseite Mitglied werden: Online Mitglied werden
Falls noch Fragen bestehen oder Probleme mit dem Formular sind, kann man mich per Mail kontaktieren: tee.eff@we.de
Ein kleiner Trick noch: wenn man die Webseiten mit dem Browser Google Chrome öffnet, kann man sie sich simultan in deutsch übersetzt anzeigen lassen.
Das zweite Angebot: die neueste Nummer der Zeitschrift der Gauge O Guild "Gazette", die sonst nur für Mitglieder online zugänglich ist, kann von allen Interessenten frei herunter geladen werden.
Hier der Link zum Heft: Gazette Mai 2020 Freiexemplar
Danke für das Interesse, beste Grüße, Torsten Freyer
GOG Menber 18055
Gebietsvertreter der Guild für Deutschland und Österreich